Posts Tagged 'Spain accommodaton'
If you've taken up jogging to fight the winter flab, why not up the ante by pitching your go faster trainers – and your wits – against the bulls in ol' Andalucia this Easter?
If you're always up for a challenge and fancy some Spanish culture of the bovine kind, along with your next fix of sun, sea and sangria, make your way to the magical whitewashed village of Gaucin.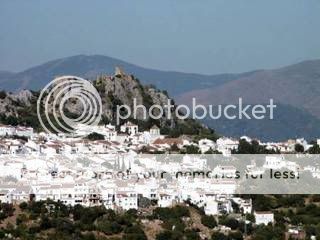 This small Andalucian village, perched 626 metres above sea level, not only has glorious sweeping views to Gibraltar and the Rif mountains of North Africa, but celebrates Easter Sunday with a real bang.
The annual bull-run, the Toro de Cuerda, has put this little hilltop gem on the map with tourists flocking in every year to join the locals as they race – and shriek – their way through the streets.
The hot date: 12th April 2009
The event: You'll get two chances to run with the bulls on the big day as the village organisers release one bull in the morning and another in the afternoon. All cars and other vehicles are removed from the streets but unsurprisingly mayhem always ensues, which means all participators join the throng at their own risk.
The cost: Joining the bull-run event is free! Even better, you've got till Easter to get slick and lithe – and save up for your post run celebrations in Gaucin's finest watering holes.
The wider attractions: While little Gaucin might not have much to keep you for a longer stay, the golden beaches of the Costa del Sol are just a 30-minute drive away. So when you've had your adrenalin rush, head to Spain's popular holiday coast, where you'll also find great golf courses and spas.
The bed: If you decide to make your Easter holiday base in the Costa del Sol, you'll find a wide choice of accommodation from self-catering apartments to luxury hotels.
Among the best low-cost new openings for 2009, is the Pierre & Vacances Terrazas Costa del Sol Holiday Village in Manilva.
This a brand new holiday destination offers fully equipped self-catering apartments with panoramic views of the Costa del Sol and the rock of Gibraltar.
Located less than an hour's drive from Malaga airport, the holiday village features a large infinity pool, private beach area with tapas bar, fitness clubs, kids playground and bike rental.
Prices start from £375 for a one-bedroom apartment sleeping four people.
And finally….If your Spanish is a sharp as your running ability, check out the official event website