Posts Tagged 'rome'
Is such a thing really possible in the land of D&G and all things beautiful? The answer is yes – if you know where to look…
The chic boutiques around the illustrious Piazza di Spagna –the Spanish Steps – are enough to make a girl cry. It's a case of so much Prada and never enough euro.
Here, you'll find the famous Via dei Condotti, the top shopping street in Rome, which is home to Italy's top designer stores such as Armani, Prada, Versace, Dolce & Gabbana, and Gucci.
This is also the street where the world's snootiest shop owners used to charge you just for walking in the door! Thankfully these days all of the shops sport an 'ingresso gratuito' sign, which means you can go in and have a poke around without any obligation to buy!
For fashions without eye-watering designer price tags, make your way to Via del Corso, a bustling pedestrianised street that runs from Piazza del Popolo down to Piazza Venezia. This shopping hub, which attracts a young crowd, provides a welcome feast of more affordable clothes and shoe shops. Accessories, jeans and sportswear are the best buys.
Best vintage shops in Rome
But the best bargain shopping in Rome is found around the Pantheon and Via Del Governo Vecchio. Secondhand clothes shops abound and you'll also find fantastic deals on jewellery and other fashion accessories.
And don't forget to check out Rome's fabulous markets. The top venues for bargain hunting include Porta Portese, the famous Roman flea market, which takes place every Sunday from 8am until about 2pm, andthe monthly bargain market (La Soffitta Sotto i Portici), that takes place every first and third Sunday of the month in Piazza Augusto Imperatore.
More than 100 exhibitors display their wares, which range from classical collector's items and antiques to watches and furniture.
For arty goods and the chance to soak up a more Bohemian vibe, explore the district of Trastevere. Located just over the River Tiber, Trastevere is a labyrinth of many charming, winding streets. Don't misss the outdoor food market in Piazza San Cosimato. This is a great chance to watch local Trasteverians buying and bargaining with vendors – loudly!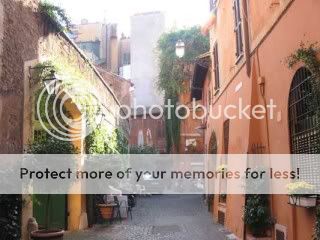 And if you have an eye for interior design and want to buy Italian furniture direct from suppliers, book a weekend in Rome for the annual Fiera di Roma Moa Casa.
Moa Casa, a leading furniture and design show held at Fiera di Roma, attracts tens of thousands of visitors to its spring and autumn shows every year. This year's event, which takes place on 25 Oct-2 Nov, showcases the latest trends in furniture and design and offers the opportunity to discuss ideas with architects, interior designers, and decorators.
The Adagio Rome Garden has a selection of studios that accommodate two people, and is available for 7 nights from 673.4 € from 1st November. Many of the properties have either balcony or terraces, and look over the unique architecture of the Roman Hills.
Adagio Rome Dehon is a tranquil residence, surrounded by gardens and has recently been completely restored. Its situated in the heart of the city, close to the view of Saint Peters or Villa Doria Pamfill. A studio for two people is available from the 1st November for 7 nights, starting from 689.85€
Thanks for reading,
PV-Holidays