Posts Tagged 'RC Toulonnais'
February 23, 2011 4:33 pm
It may be the Six Nations Championship, but right now, only two countries seem to matter in Rubgy Union [sorry Wales, Ireland, Scotland and Italy]. On Saturday 30 men will meet spine-shaking tackle to spine-shaking tackle, with their nation's expectations heavy on their shoulders…
V
The Six Nations showdown
In the blue corner we have the French, who have dominated the Six Nations for the past ten years with five wins, three of which have been Grand Slams [when one team beats all five other sides]. In the white corner are the English, with the most titles in the history of the tournament and winners of the Rugby World Cup in 2003.
Both teams have won their first two matches, England with a close but comfortable performance defeating Wales 26-19, and a thorough thumping of Italy 59-13. And France with a confident win against Scotland 34-21 and a wobbly defeat of Ireland 25-22.
Despite their strong starts, England and France are both coming into the tournament after set backs: England with a very disappointing 2010 full of defeats, and France after their November pasting by Australia when they were booed off the Paris pitch by their own fans.
The bookmakers favour England who currently sit at the top of the tournament table on scored points difference, but France have the upper hand if you consider their consistent form in the Six Nations over the past decade.
But this Saturday isn't just about one game. Whoever wins Le Crunch is then the favourite to win the entire Championship. Not to mention the winning momentum this could create going through to the Rugby World Cup in New Zealand later this year.
Who's playing in Le Crunch?
Our brief guide to the key personalities on either side of the pitch:
England:

Coach: Martin Johnson CBE
Regarded as one of the greatest ever locks to have played, Johnson captained England to victory in the 2003 World Cup and began coaching England in 2008.
Captain: Mike Tindall
Tindall was part of the winning England squad at the 2003 World Cup and is not afraid of tough tackles – he once suffered a punctured lung and tear to his liver while playing against Wales. Perhaps more daunting than Saturday's game for Tindall is that he is to become part of the Royal Family when he marries Zara Phillips, granddaughter of HM Queen Elizabeth II, in July.
Fly-half: Jonny Wilkinson
Famous for his lucky left foot, Jonny Wilkinson's conversion kicks were instrumental in England's World Cup win in 2003. He holds the highest tally of international points and the Rugby World Cup points record of 249. A succession of injuries have disrupted his recent career but if his performances as a substitute against Wales and Italy are anything to go by, he's on his way back to form.
Fly-half: Toby Flood
According to the English press, Flood is the French team's primary concern for the upcoming head-to-head. And as England's play-maker-in-chief and goal kicker who hasn't missed yet, it's not hard to see why.
Wing: Chris Ashton
Ashton has hogged the English headlines with six of the 10 tries scored in England's first two games. He needs just one more to break the individual record for tries scored in a single Six Nations campaign. But he's faced criticism for his swallow dives when scoring, which run the risk of counting the try null and void if he drops the ball.
France:
Coach: Marc Lièvremont
Lièvremont retired from playing professional rugby union in 2002 and after coaching French club Dax took over the national team in 2007.
Captain: Thierry Dusautoir
As well as having a degree in chemical engineering, Dusautoir captained France to a famous victory over New Zealand in 2009. He took over the full-time captaincy of France in November 2009 and is famous for his hard and fast tackles.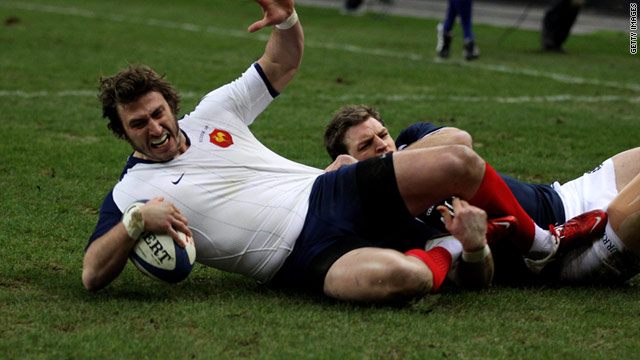 Full back: Maxime Médard
Despite not playing for the French team in their grand slam Six Nations win in 2010, Medard has scored two tries in two games for the 2011 tournament, and with sideburns as distinctive as his play, he's one to watch.
Lock: Sébastien Chabal
One of the most popular French sporting personalities, Chabal's nickname is 'the horse' because of the similarity of his name to the French word 'cheval', and also his distinctive ponytail, full beard and ferocious tackling.
A guide to Rugby Union in France
Rugby was introduced into France by the British in the 1870s and in 1892 the first ever French championship took place between two of the first established clubs:  Racing Club de France and Stade Francais.
The elite French clubs compete in the professional domestic club league known as the Top 14. Rugby Union is traditionally more popular in the south, with 12 of the Top 14 clubs based in the southern half of France.
Here are some clubs to keep an eye out for:
ASM Clermont Auvergne
The current Top 14 Champions. Founded in 1911 they are also known by their former name of Montferrand. Located in Clermont-Ferrand, until last year the club had reached the French Championship final 11 times but had never won.
Accommodation in Saint Etienne