Pierre & Vacances: Top Ten Affordable Ski Resorts in France
October 23, 2009 1:15 pm
As the new ski season beckons, it's time to air out your woolly hats, blow the dust off your skis and grab a great deal to the slopes.
In the chilly economic climate, the French Alps are still your best bet both for quality resorts and accessibility.
Just a couple of hours' flight away from the UK, the French Alps offer a vast choice of resorts catering for absolute beginners, intermediates and pros.
Here's our guide to the top ten most affordable ski resorts in France…
1.Avoriaz
Best for: Families
Perching above Morzine, Avoriaz, is one of the greenest resorts in Europe and provides state of the art facilities and easy accessible routes, making it perfect for families. The resort is also pedestrianised and central to the Portes du Soleil ski area. The resort itself is huge and therefore suits every type of skier, from kids to grannies. Dads wanting to show off with sons can also pass on snowboarding skills by paying a visit to "The Stash" which is a dedicated freestyle-area.
Pierre & Vacances Balcons du Solieil is a great base for young families visiting Avoriaz this winter. It's apartments have recently been refurbished and are of a high quality, making them great apartments to retire to after a days-worth of skiing. There is also lots of on-site entertainment for the kids, including a childrens area, ice skating rink, cinema and bowling alley.
Hot deal: Pierre & Vacances Avoriaz Les Balcons du Soleil is located 300 m from the slopes, the ski lifts and shops and offers fully-equipped apartments with mountain-view balconies. A week in a one-bedroom apartment for up to four people, costs from just 558 Euros.
2. Chamonix
Best for: experienced skiers
Chamonix is a much-loved ski resort due to the variety of outdoor activities you can participate in here. The summit of Mont Blanc is the third most visited natural site in the world and the mountains hosts activities such as ice climbing, alpine mountaineering and extreme skiing. There is all sorts of terrain, but this is the perfect destination for the expert winter sports enthusiast and the adventurous. Chamonix is famous for its cable car up to Aiguille du Midi as well as the panoramic restaurant at the top station of the Brévent cable car, which boasts impressive views of the Mont Blanc Massif.
Hot deal: The Residence Maeva La Riviera is located in the district of Chamonix Sud, 300 m from the Aiguille du Midi cable car and five minutes from the resort centre.
Studio apartments for up to four cost from just 244 Euros for seven nights.
3. Plagne 1800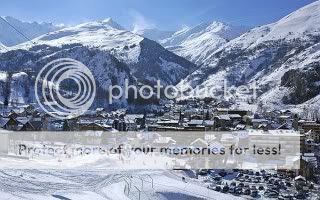 Best for: Intermediates
La Plagne is a group of high altitude resorts and village resorts, all linked together at an altitude of between 1,250m and 2,100m. This means there are some fantastic routes for skiers, but the quaint exterior facades of cabins means the resort has a lovely rustic, high quality feel. Because of the attractive little wooden slated-roofed houses, standing in the middle of a pine and larch forest, the resort has earned itself the nickname of "La Charmante"
Hot deal: The Résidence Maeva Plagne Lauzea renovated residence on the edge of the forest, this property is just 300 meters from the Plagne and Paradski ski lifts. Arranged to look like a Savoie village, and is very picturesque.
Hot Deal Stay at Residence Maeva Plagne Lauze for 6 nights in a studio which sleeps a family of four from just 290 euros.
4. Valloire
Best for: Intermediates
Valloire offers the combination of an old mountain village mixed with modern architecture. Valloire is the best known of the Maurienne valley resorts and its narrow streets, bustling shops and various restaurants makes it a charming location for your winter holiday. The slopes spread widely across three sunny sectors and are particularly good for intermediates. 70% of the Valloire/Valmeinier ski area is above 2000m and it offers 150 km of slopes.
Hot deal: The Pierre & Vacances Chalets Valoria at Valloire is located on the heights, overlooking the valley and the resort. A high standard residence built in a style typical of the region, these spacious apartments are located 300m away from the ski lifts.
Studios for up to four cost from only 279 Euros per week.
Best for: Snowboarders
Serre Chevalier is one of the major ski resorts in France. Located in the Haute-Alpes region, Serre Chevalier is a large valley between the Lautaret and Briançon passes. Its 13 villages and hamlets, which blend tradition and modernity, are scattered across the valley with its large skiing areas covering 250km. The resort also offers a wide range of activities for the whole family, and with its large natural terrain is also considered one of the best snowboarding destinations in France. Serre Chevalier lies at the foot of the most beautiful peaks of the Ecrins National Park and boasts approximately 300 days of sunshine a year.
Hot deal: Pierre & Vacances Résidence L'Alpaga, situated in the mountain village of Villeneuve, has comfortable, spacious apartments close to the shops and ski lifts.
Studio apartments for up to four people costs from 378 Euros for a week's ski holiday.
Best for: Skiers of all abilities
The little known Isola 2000 is a ski resort in the southern region of the French Alps that offers great skiing for all levels. This modern resort's altitude is at 2000 metres and pisted runs reach the height of 2610 metres on the summit of Sistron where, on a clear day, it is possible to see the Mediterranean sea.
Isola 2000 has an excellent snow record too. Snowboarding is popular in Isola and there are plenty of 'board-friendly' lifts and a dedicated snowboard park. There are lots of shops, bars, clubs, restaurants and supermarkets adjacent to the
slopes and there are numerous cafes and restaurants should you wish to take a break and bask in the Mediterranean sun.
Hot deal: The Pierre & Vacances Les Terrasses d'Azur residence in Isola 200 is in perfect keeping with the resort's natural environment of pines and larches. It overlooks the resort and is close to the ski runs and shops. The apartments are very comfortable and have a panoramic view over the skiing area and the Chastillon valley. Studio apartments that sleep up to four people, cost from just 441 Euros per week
Best for: Families
Les Carroz d'Araches is an expansive, sunny and traditional resort with plenty of terrain to suit everyone. It has the lived-in feel of a real French village and its array of pavement cafes and restaurants around the main square offers a homely and lively atmosphere.
The resort caters particularly well for families, offering excellent facilities for children so is perfect for a family ski holiday. There are good woodland runs immediately above the village for bad-weather days, with a scenic setting to enjoy when the sun shines.
Hot deal: Residences MGM Les Fermes du Soleil is a luxury 4-star residence, just a stone's throw from the centre. Each apartment is designed to offer you maximum comfort with large bay windows giving exceptional views over the village, the valley or the skating rink. The closest ski lifts, 800m from the residence, are accessible via a free shuttle bus.
One-bedroom apartments for 3-4 people cost from 630 Euros per week.
8.Flaine

Best for: Intermediates and families
Flaine is a high-altitude resort sharing a big, broad area of varied slopes with more rustic alternatives. Flaine is a resort proud of its Modernist and artistic design, which is a dramatic contrast to the natural landscape of the French Alps. As well as the architecture, several large public art works adorn the base of the resort, including a Picasso.
Loved by many, due to the extent of its ski area and range of runs, this is a resort ideal for intermediate skiers as well as being one of the most family-orientated ski resorts in Europe.
Hot deal: Pierre & Vacances Terrasses d'Eos residence is a brand new addition to our ski residences for the 2009/10 ski season. Built in 2008 by Intrawest, this top-of-range residence is located in a new, entirely car-free hamlet of Flaine Montsoleil and features 145 comfortable apartments.
The two buildings that make up the residence have direct access to the pistes and chairlifts, providing you with a direct link to the Flaine and Grand Massif ski areas. One-bedroom apartments cost from just 572 Euros for seven nights and sleep up to four people.
9.Valmorel

A great choice for first-timers and families, Valmorel is a purpose-built French ski resort comprising several small satellite villages in the Grande Domaine. Valmorel and St Francois Longchamps together offer 165km of marked pistes.
Valmorel's resort centre is car-free and it also scores top marks for families as most of its pistes cater for beginners and intermediates, and there are plenty of designated practice areas. The ski area is on your doorstep which means you can literally ski to your door – another big plus if you're skiing with kids. While it is great for families, those who also want lively après-ski should go elsewhere as there are only a handful of restaurants and bars.
Hot deal: Pierre & Vacances is offering seven nights in a studio apartment at the Résidence Maeva Planchamp et Mottet in Valmorel from just 405 Euro.
10. Alpe-d'Huez

Best for: thrill seekers and skiers of all levels.
Home to La Sarenne, which at 16km is Europe's longest ski run, Alpe d'Huez is often thought to be the sole preserve of ski pros and adrenalin junkies. While the infamous 'Tunnel' run remains a must do ride for experienced skiers, the resort also has a good choice of gentler runs for beginners. The best of the less challenging slopes are found on the outskirts of the resort and there are plenty of blues and reds for intermediates.
Situated in a large sunny bowl, Alpe d'Huez is known as the 'l'Isle au Soleil' ('The Sunny Island') thanks to its high levels of sunshine throughout the year. This resort is a great choice if you're travelling in a group which has mixed abilities – leave the pros to La Sarenne while the novices play it safe.
Hot deal: Situated in Les Bergers district of Alpe d'Huez, the Pierre & Vacances Les Bergers residence has comfortable apartments and a heated outdoor swimming pool.
Seven nights in a studio that sleep 3-4 costs just 405 Euros.
All P&V residences featured are ski in/ ski out and are self-catering apartments with fully equipped kitchens and cooking facilities.
To make your Euro go even further, Pierre and Vacances have launched major price falls on their ski accommodation today, to ensure their customers can beat the euro when booking ski holidays this winter.
Customers can save up to 35 percent off all ski resorts throughout the winter season. This means, if you book fast enough you could be saving a third and spend just 55€ for a weeks accommodation! And it gets better…this major ski discount can be used on all dates throughout the winter ski season including the school holidays, Christmas and New Year.
The Eurobuster deal can also be combined with any other Pierre & Vacances deal currently on offer, including the 20% early booking discount, leading to further on your winter ski holiday.
Simply type in the promo code: 8258 when visiting PV-Holidays. You can also find out more information by visiting the offer page here
Don't forget too, there is only one week left on the Pierre & Vacances early booking discount offer. Of cour
se, the Euro buster will still run, but don't forget to bag your additional discount too. Find out more about the early booking discount offer
Visit www.pv-holidays.com for further information and all the latest deals.